Our History
Women Religious: The Voice of Earth by Gail Worcelo, sgm
"The human and the natural world will go into the future together or both will perish on the way!" This is the first sentence spoken by Thomas Berry during our novitiate training with my Passionist community.
In 1982, I entered the Passionist Nuns of St. Gabriel's Monastery, a congregation of Catholic sisters, priests and brothers founded in the 18th century by Italian mystic and preacher Paul Danao, later canonized as St. Paul of the Cross.
Thomas Berry entered the same congregation of Passionists, 49 years earlier.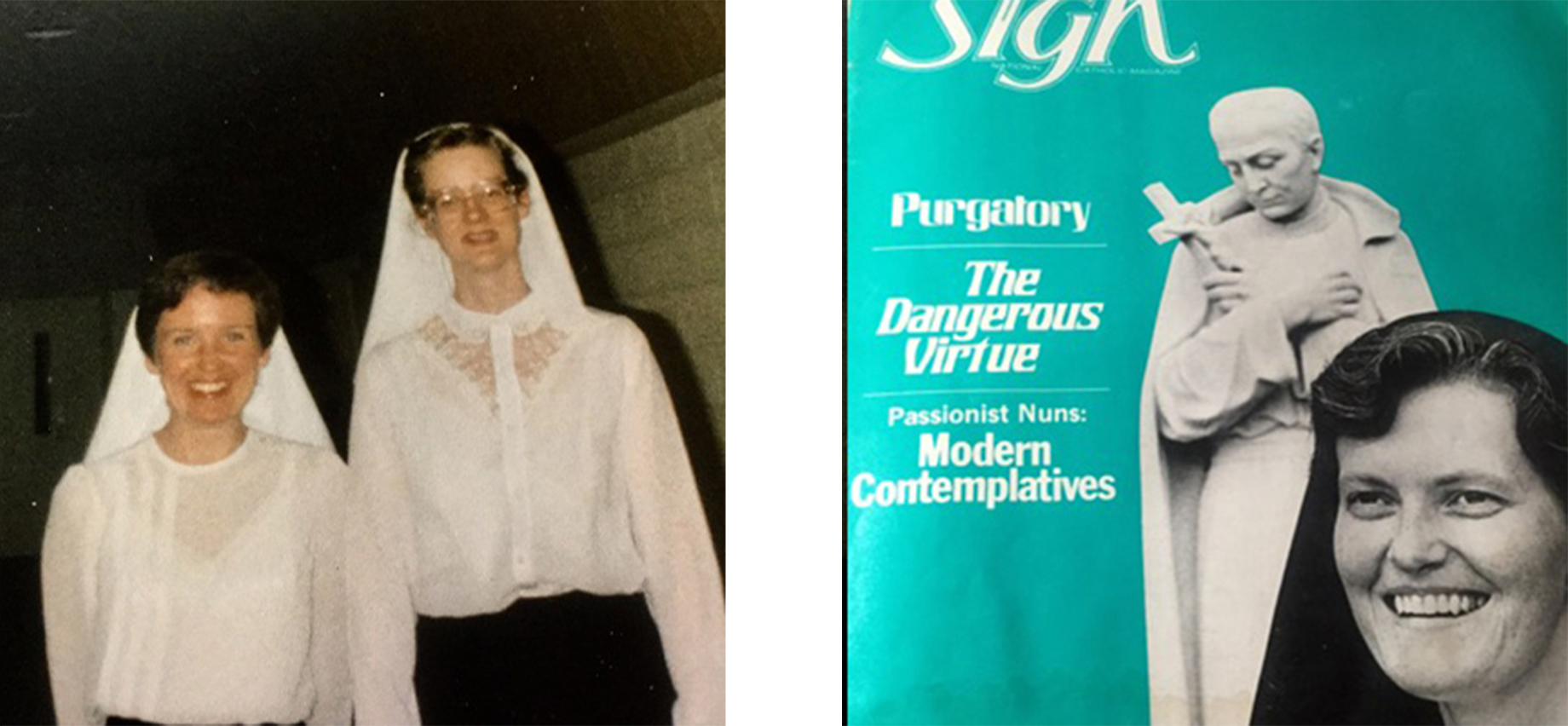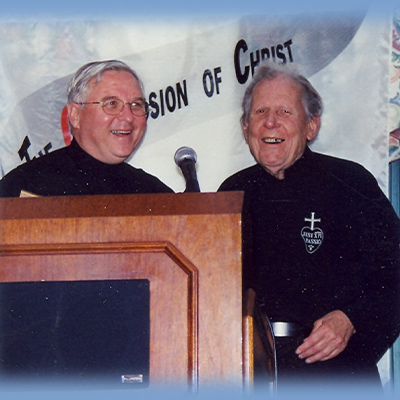 So it was no surprise that as a seasoned member of the order, Thomas was asked in 1983 to be a visiting scholar during our joint novitiate training of men and women novices.
During our studies, Thomas oriented us and our religious vocation within the comprehensive context of our unfolding universe, giving us a deep time perspective and challenging us to re-imagine ourselves within this larger universe context.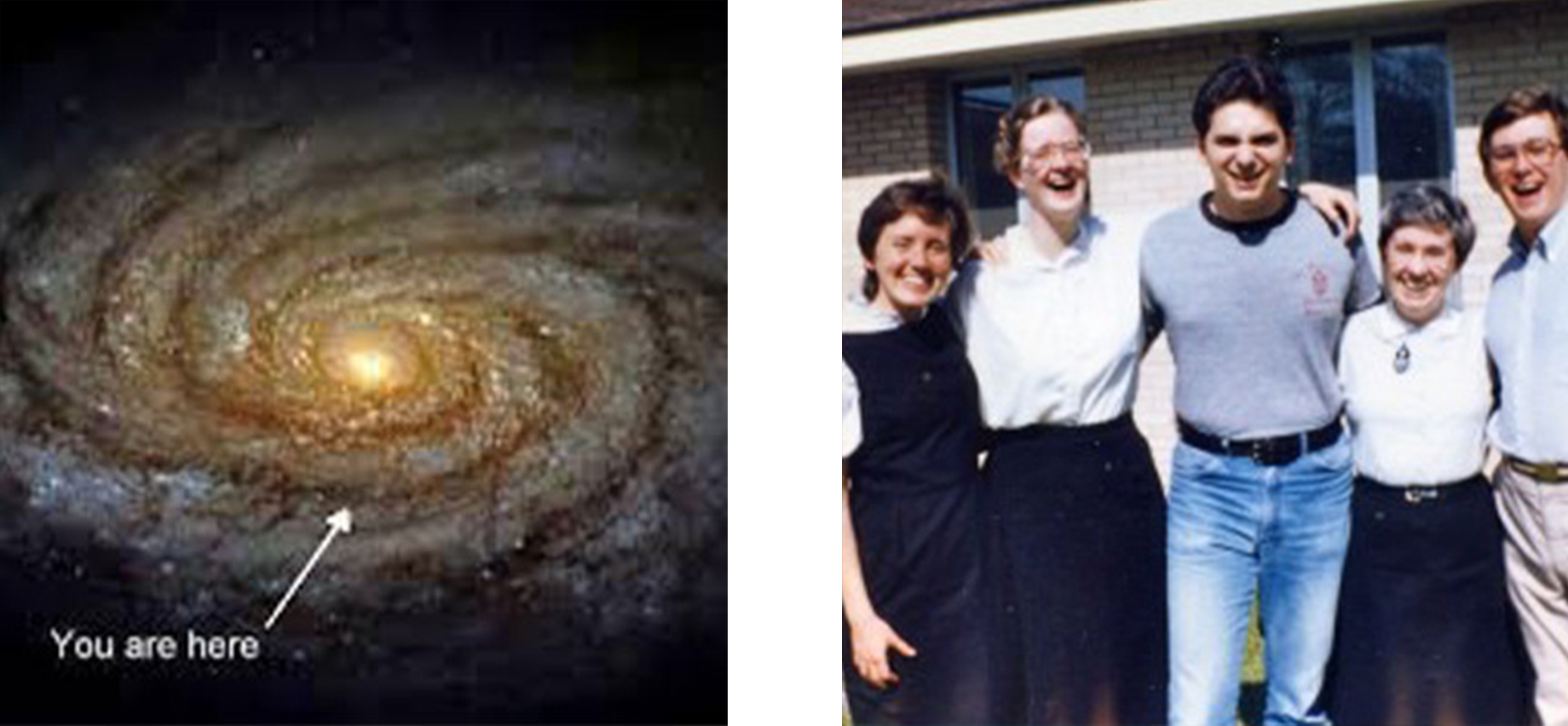 There were about ten of us who were novices in that classroom at the time. Mysteriously, I was the only one in the group who asked Thomas if I could continue studying with him, knowing there was nothing else to do as his words rang so deeply within me.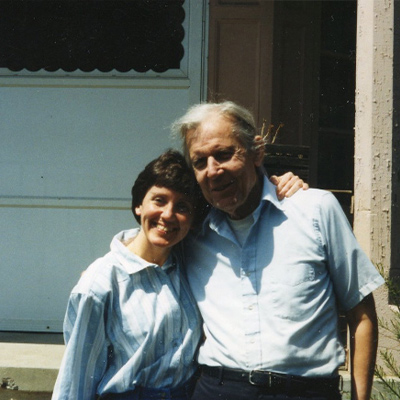 Following this novitiate experience, I began studies with Thomas through monthly visits to the Riverdale Center for Religious Research in NYC where we explored thinkers and writers like Nigel Calder author of Timescale, William Catton who wrote Overshoot and groups like the Club of Rome and their published work, Limits to Growth.
Thomas would also come and visit my monastery, bringing books and having conversation well into the night. On many occasions I remember saying, "Thomas it is late, time for sleep" and his response would always be, "Why sleep, there is so much to talk about!"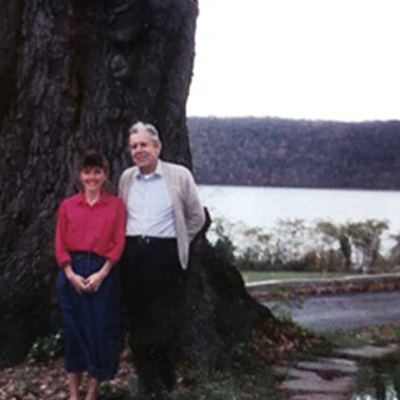 Beginning then in my novitiate in 1983 and continuing until his death in 2009, Thomas taught, guided, and mentored me, setting my life in a clear and focused direction of service to the Earth Community as a sister within the Catholic religious life tradition.
In 1991, Thomas presided over my Final Vow Ceremony with over 200 people gathered, giving me the ring of Final Profession and celebrating my vocational commitment within our emerging universe. He began his homily by saying, "I have been to many religious professions in my life, but never before, never before has anyone been so conscious of integrating their religious commitment within a deep commitment to the Universe and Earth community."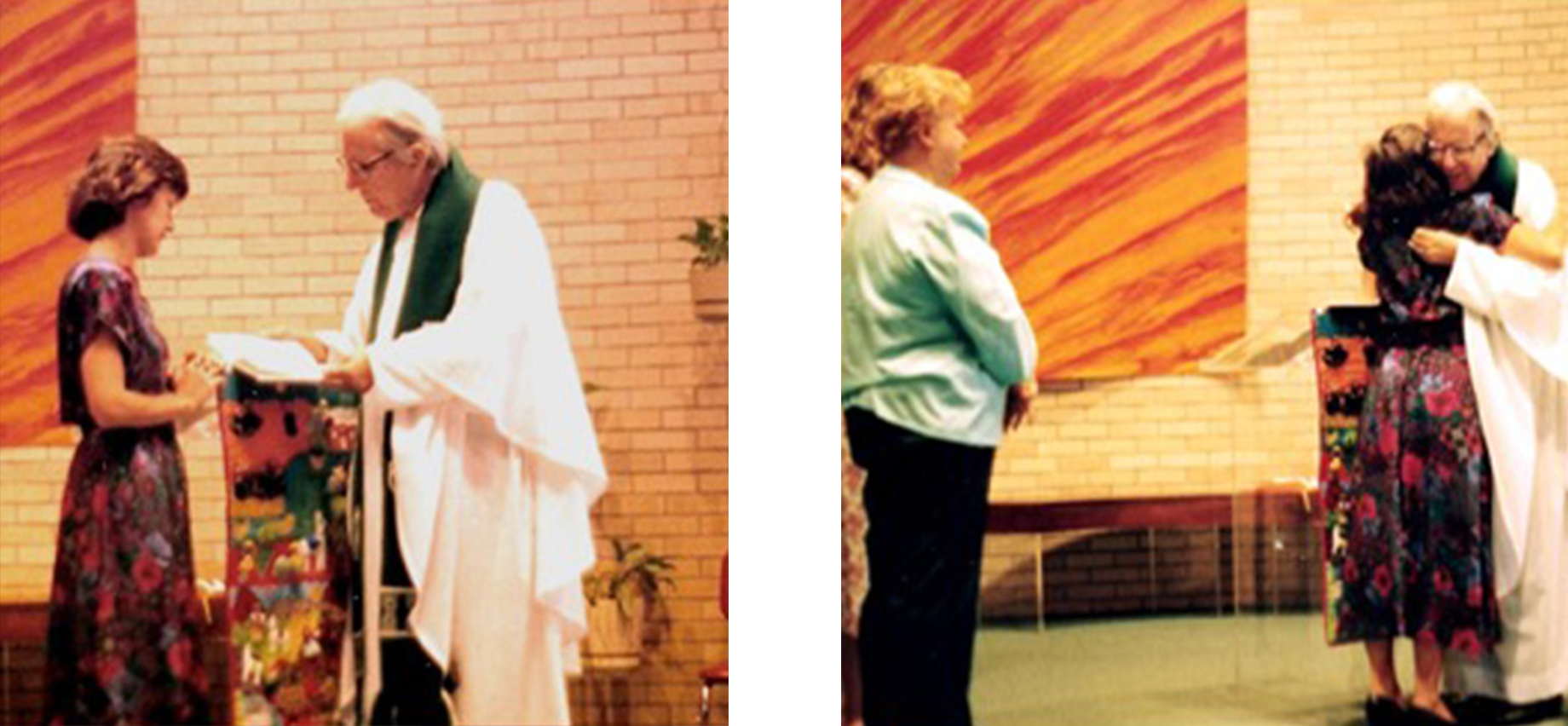 Shortly after making Final Vows, Thomas said, "To begin all you need is a room, a phone and a letterhead." So with that guidance I founded Homecomings: Center for Ecology and Contemplation, a new ministry of my monastery.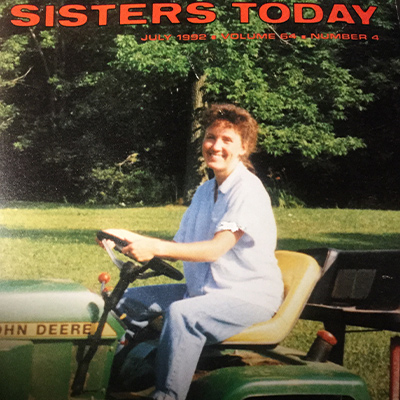 Homecomings became the vehicle for concretizing the thought of Thomas Berry, through an on the ground understanding of Earth as a "Communion of Subjects."
In 1994, Bernadette Bostwick joined me in Homecomings. Together with the help of volunteers we established organic gardens, children's programs on the land, Community Supported Agriculture (CSA), sustainable building design, and educational programs on the themes of Cosmology, Spirituality and the Universe Story.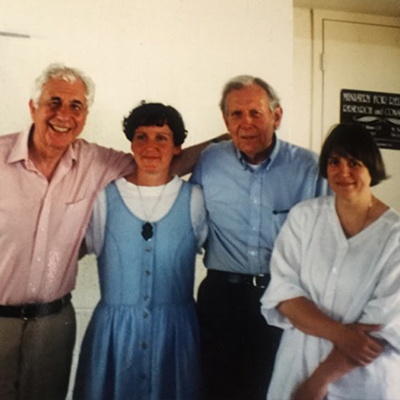 Westudied the World Charter for Nature, Silent Spring, A Sand Country Almanac, The Immense Journey and many other volumes. Thomas visited the monastery during this time as he was able. In addition, I began traveling around the world (India, Africa, Australia, South America, Asia and Europe) teaching and leading programs to many different groups, including seminaries, houses of formation, and Chapters of men and women's religious communities on the work and challenges of Thomas Berry.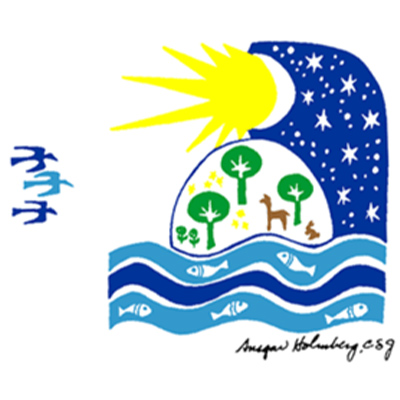 In 1994, I along with sisters Mary Southard, Toni Nash and Mary Lou Dolan gathered Catholic sisters from around the country together to form what has become the vibrant network, Sisters of Earth .The first gathering taking place at my Passionist monastery in Clarks Summit, Pennsylvania.
Also in 1994, my life direction was significantly impacted by Thomas's paper, Women Religious: The Voice of Earth. In this paper, Thomas pointed out that throughout history, women's religious communities in the Catholic tradition were founded to meet the needs of the human community (through schools, hospitals, social services…) but no community had been founded to tend to the needs of Earth.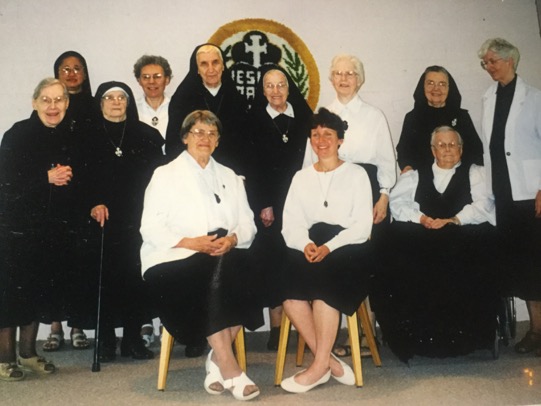 This pivotal paper along with conversations with Thomas inspired me to ask my Passionist community to mission me to begin a new community of sisters whose founding would be for the healing and protection of Earth and its life systems.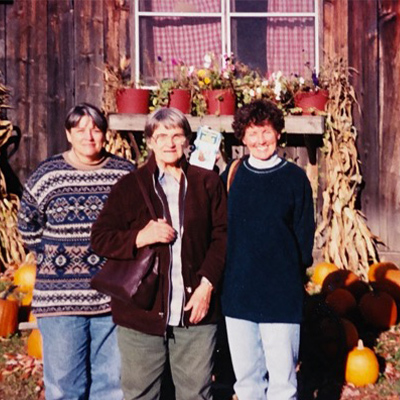 Joined by sisters Rita Ordakowski and lay associate Bernadette Bostwick the sisters of St Gabriel's Monastery in 1999 gave their blessing, missioning Rita, Bernadette and myself to found a new religious community. We called ourselves Sisters of the Earth Community with a mission of: Going into the Future with the Natural World as a Single Sacred Community. We were welcomed into the Diocese of Vermont by Bishop Kenneth Angel and on June 1,1999, arrived in Vermont.

During the years 1999-2009, Bernadette and I made many trips to Greensboro, North Carolina to visit Thomas, deepening and laying the cosmologically oriented foundations for our new community.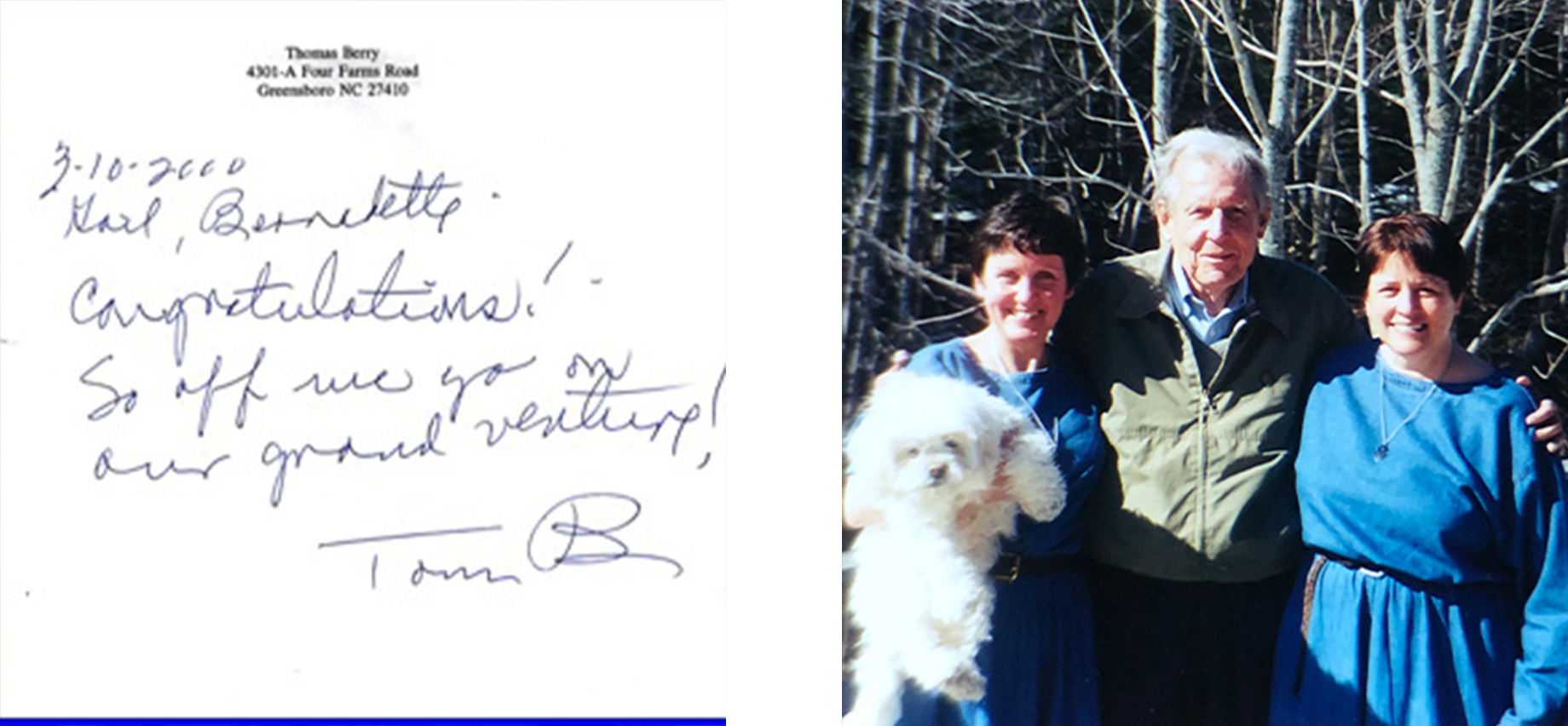 On the home front in Vermont, we began to make connections with farmers, artists, professors and activists as well as offering programs on the universe story while establishing financial stability.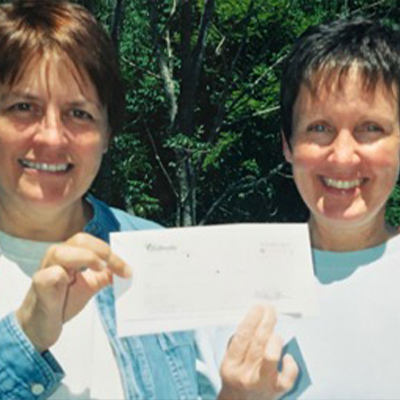 In 2001, we raised enough funds to purchase 190 acres of wild forest land in the Green Mountains with the vision of building an ecologically sustainable green monastery and retreat.
We explored the land for two years and then because of a right of way issue, had to sell the property, which we did for added value.
This enabled us to purchase 158 acres of land with an ecologically designed building in 2004 in the town of Greensboro, Vermont.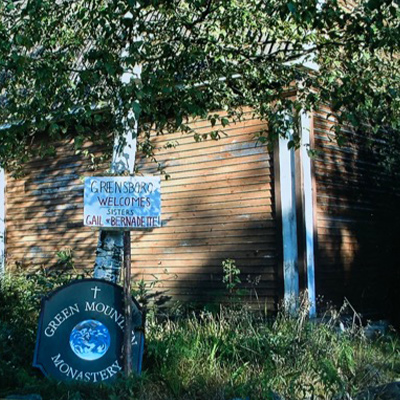 Thomas called this beautiful synchronicity "a touch of heaven". Our place, Green Mountain Monastery and the Thomas Berry Sanctuary became known as Greensboro North while Thomas's place of residence in Greensboro, North Carolina became known as Greensboro South.
A 30 member Advisory Board was formed, and 100 Companion members accompanied our new community, designed at all levels to reflect a consciousness of communion with the natural world.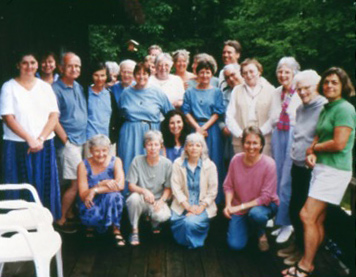 I continued traveling around the world leading programs and retreats, while Bernadette worked on art projects designing the beautiful Mary of the Cosmos Icon and Earth Prayer Beads both of which are found in centers all over the planet. This icon was Bernadette's attempt to express in image and color Thomas's words spoken to us on one of our visits ~ "The universe is more in Mary than Mary is in the Universe."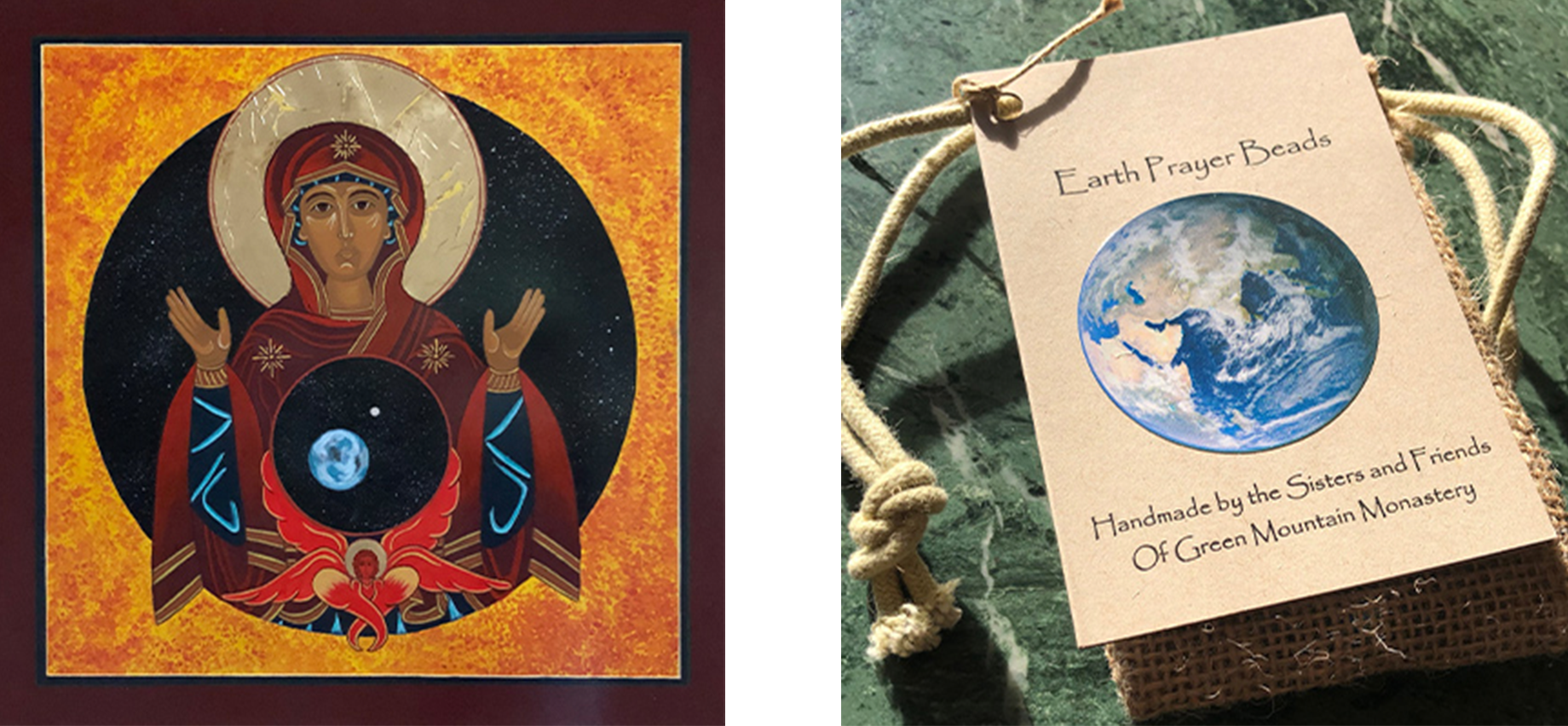 The legacy of Thomas Berry continues through us with many programs, retreats, guests and visitors from around the world spending time at Green Mountain Monastery/Thomas Berry Sanctuary. In addition, many gatherings around the arts ~ concerts, writing, poetry readings, dance, rituals ~ expressing ourselves as a Single, Sacred Community have taken place.
On June 1, 2009, ten years to the day of our founding, Thomas Berry passed on and at his request was buried in a meadow on our land, where many visitors from around the world come to pay their respects. Honored by his request, we continue to be custodians of this sacred trust.

In the years following new sisters joined our community from Indonesia and Philippines with several women currently in discernment. These women continue to bring our mission and legacy of Thomas Berry to many gatherings and places in Asia, especially to younger generations.

Our first sister to join us in the mission was Amie Hendani in 2011. Kristiana Maria Prasetyo , also from Indonesia followed. Along with Elizabeth Carranza (Bing) who was with us a short time.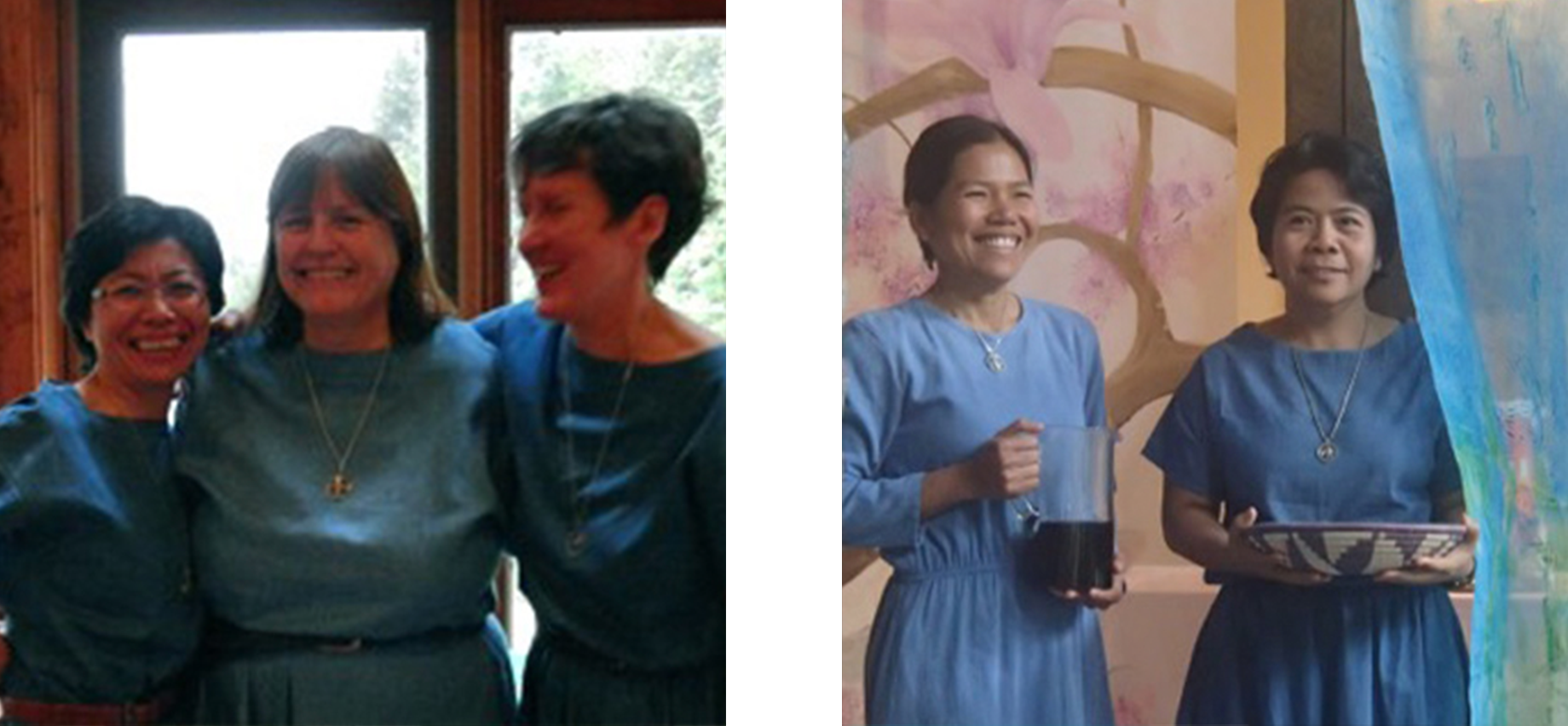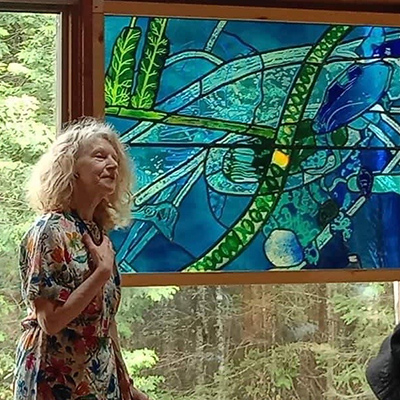 On June 1, 2019 we celebrated our 20th anniversary and 10th anniversary of the passing of Thomas Berry. Highlights of the celebration included the unveiling of 4 Cosmic stained glass windows depicting the story of the universe by the glass artist Amber Hiscott from Wales, a 5 year project.
Our celebration also included an art tent containing works by women artists curated by Sr Bernadette and the conferring of the Thomas Berry Award for Selfless Service to three friends who have given so generously of themselves over the many years of our unfolding.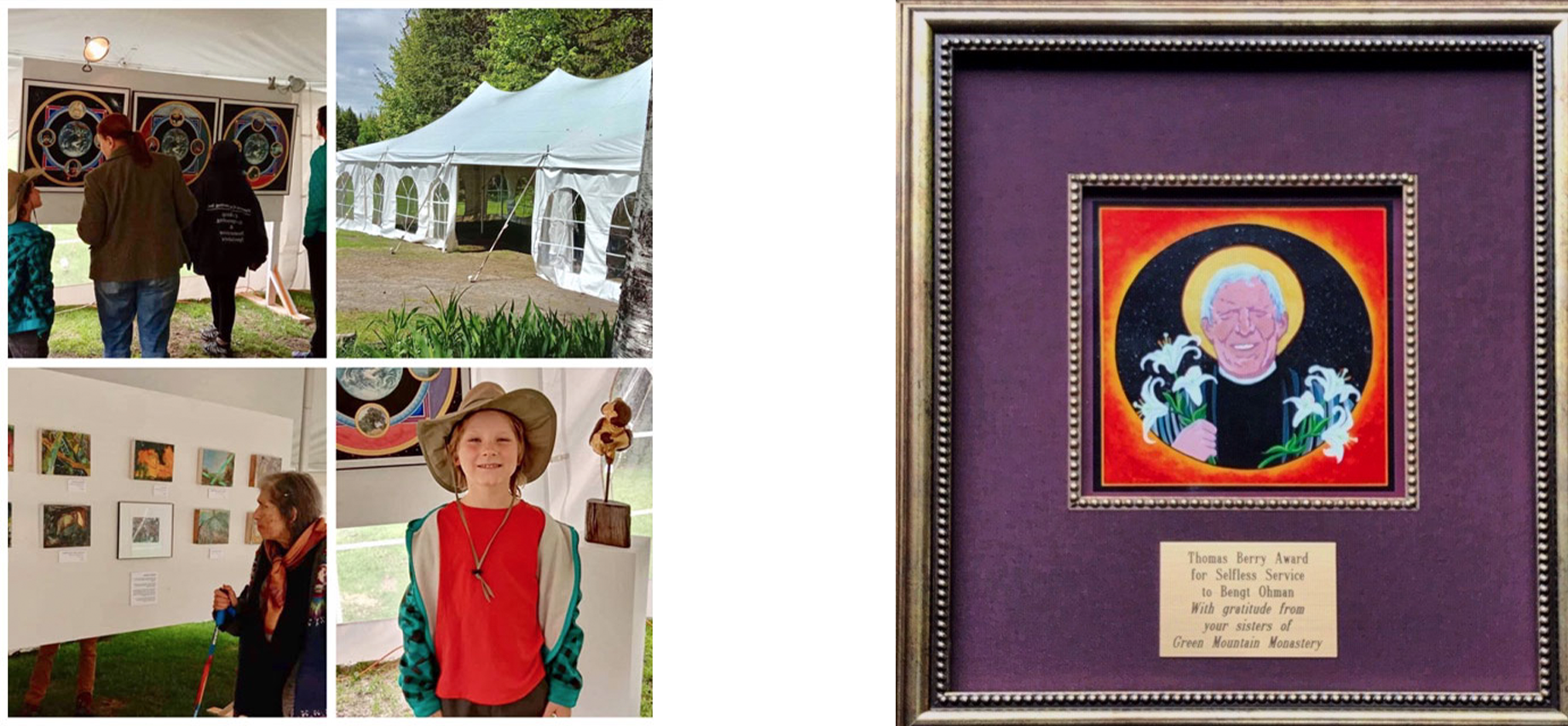 On December 11, 2020 had the closing of our Conservation Easement, placing our land in a Trust with The Nature Conservancy and Vermont Housing and Conservation Board.
In his book Evening Thoughts, Thomas reflected on the need for a new pattern of rapport with the planet. Only a profound change in human consciousness he said, can remedy the deep cultural pathology manifest in our destructive behaviors.
His words continue to ring true in this moment of profound planetary collapse. Joining his wisdom are new voices coming through in papers and books such as Deep Adaptation, The 6th Extinction, An Uninhabitable Earth, and The End of Ice.
We are linking with and supporting young people in movements such as Pacha Mama Alliance and Global Catholic Climate Movement.
We are also working on United Nations NGO status so that we can connect and influence by linking with others at a global scale.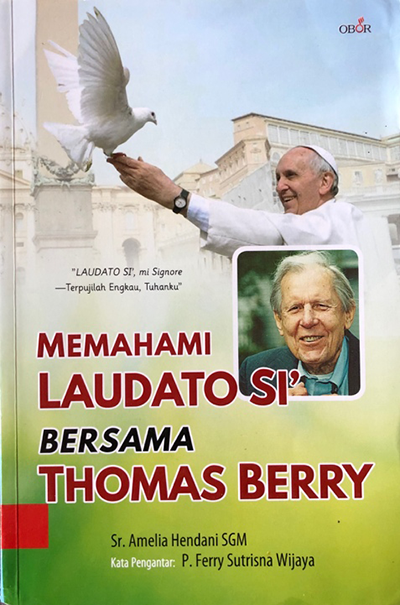 Sr Amie has brought the thinking of Thomas Berry to Indonesia by translating into Bahasa, The Christian Future and the Fate of the Earth. (Kosmologi Kristen) and writing a book on Laudato Si in conjunction with Thomas Berry entitled: Memahami Laudato Si Bersama Thomas Berry.
Our dream is to spread our mission and legacy of Thomas Berry all around the world by establishing extensions of Green Mountain Monastery in countries beyond the USA, as we branch out as Sisters of the Earth Community and Thomas Berry Partners in Mission.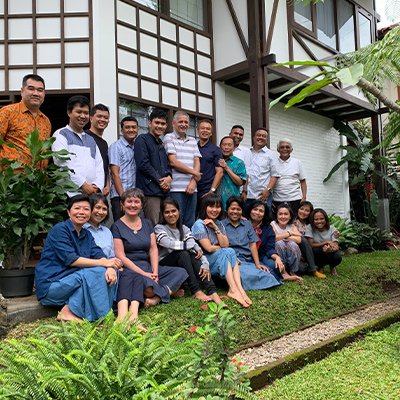 Sisters Amie and Kris have introduced our mission to a new culture and generation in Indonesia. In March 2020 we gathered in Indonesia for the first time with our 15 new Thomas Berry Partners in Mission called Mitra Thomas Berry Indonesia.
A generous couple in the town of Bandung, Bu Narni and Pak Koerni generously gave us the use of their beautiful house as a base for our new initiative. Sr Kris is leading this initiative and working hard to establish our presence in Indonesia.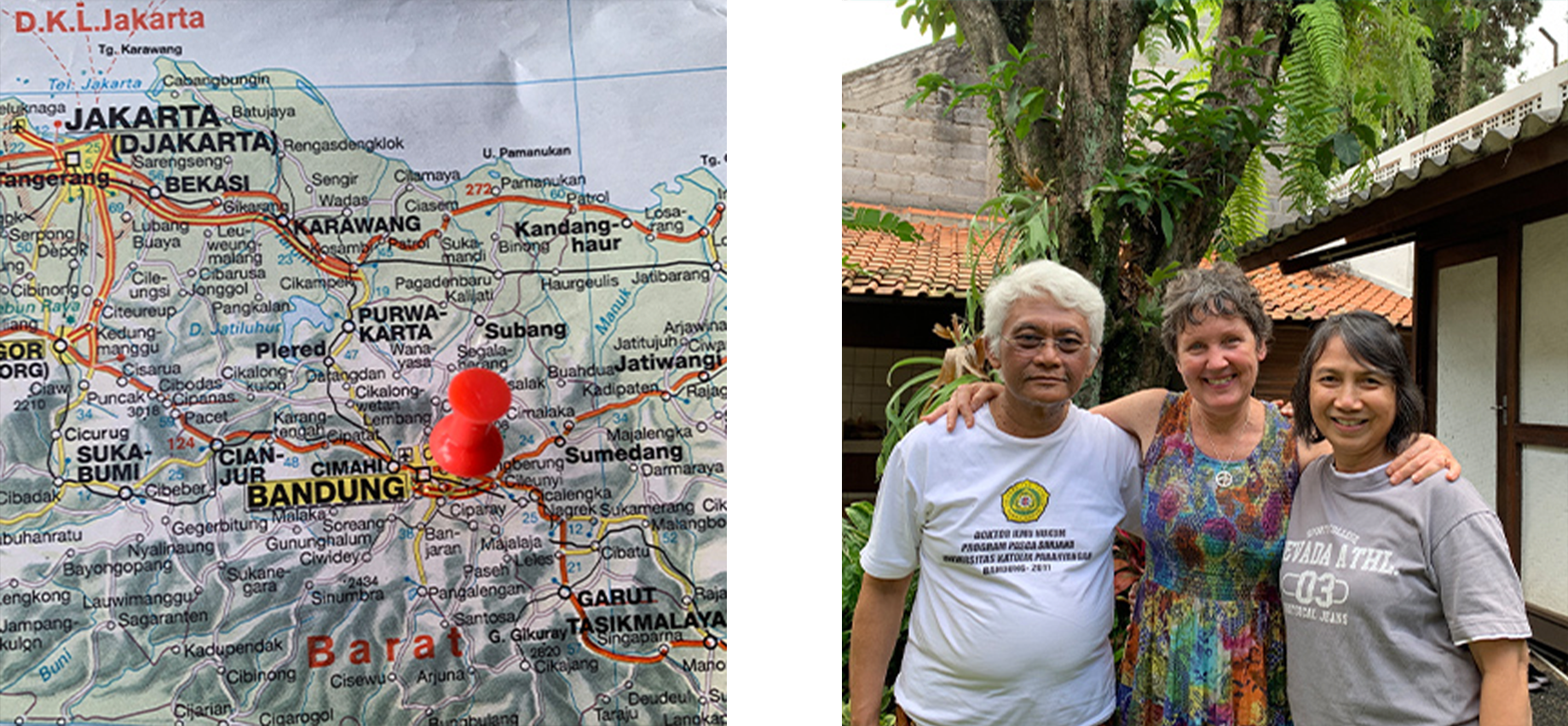 Sr Kris along with our partners Pak Octa, Pak Ali, Pak Tony and Endro have recently begun the Thomas Berry Biodynamic Farm.

Our special concern in Indonesia reaches to palm oil plantations that are depleting biodiversity and destroying the tropical forests as well as threatening the life of the Orangutans who are critically endangered.
Because of Sr Amie's particular concern for the protection of the Organgutans, we had the privilege (through her organizing a trip in March 2020 ) to visit Tanjung Putting National Park in Borneo and visit Camp Leakey and the Organgutan Sanctuary in the deep forests of that land. We plan to continue to support the protection of these great animals into the future.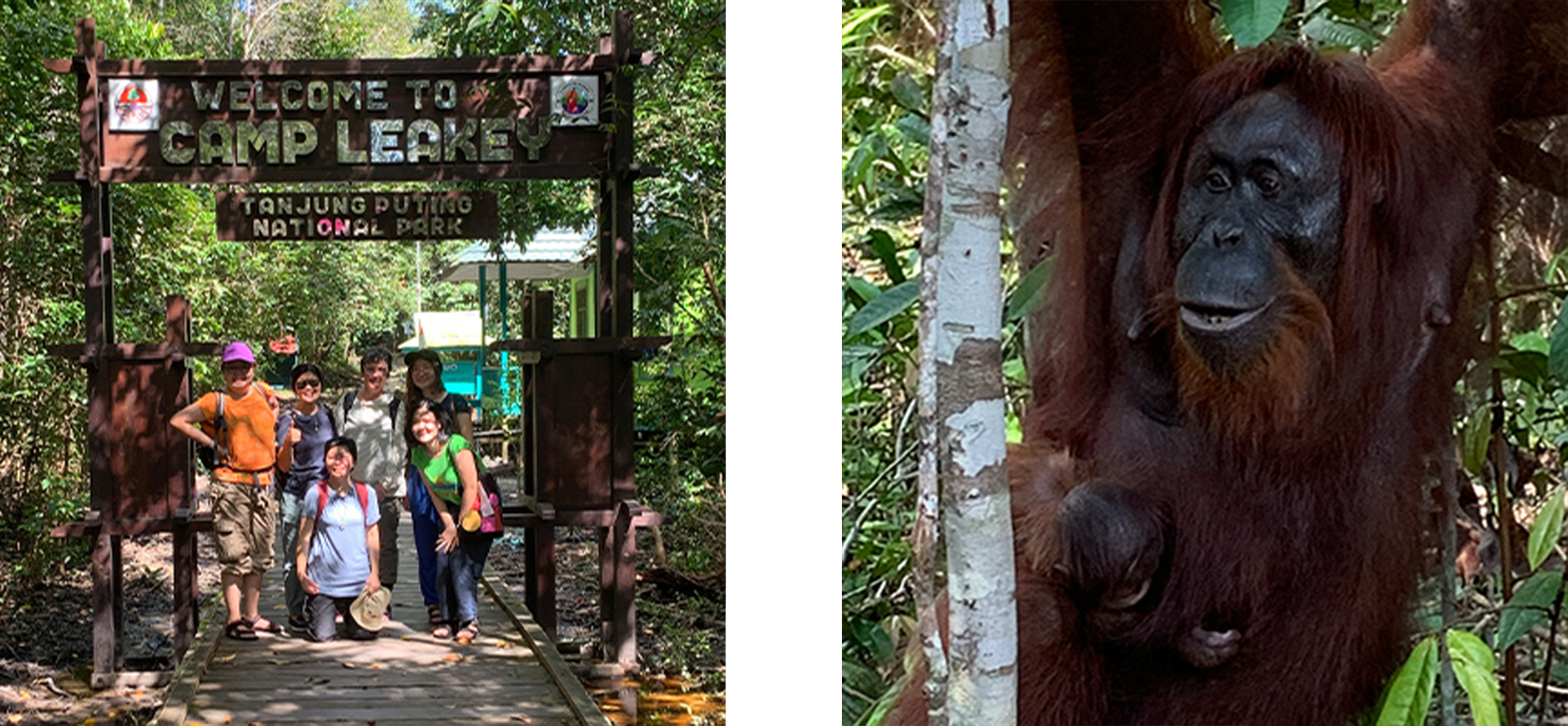 Bernadette continues creating contemporary art pieces flowing out of the interface between environmental collapse and political turmoil. A recent piece entitled: So Many Words, So Little Time was displayed at the University of Vermont's conference: A Feverish World. Part of her series entitled: All that Glitters is displayed at the new Work Artz Gallery in Los Angeles, California.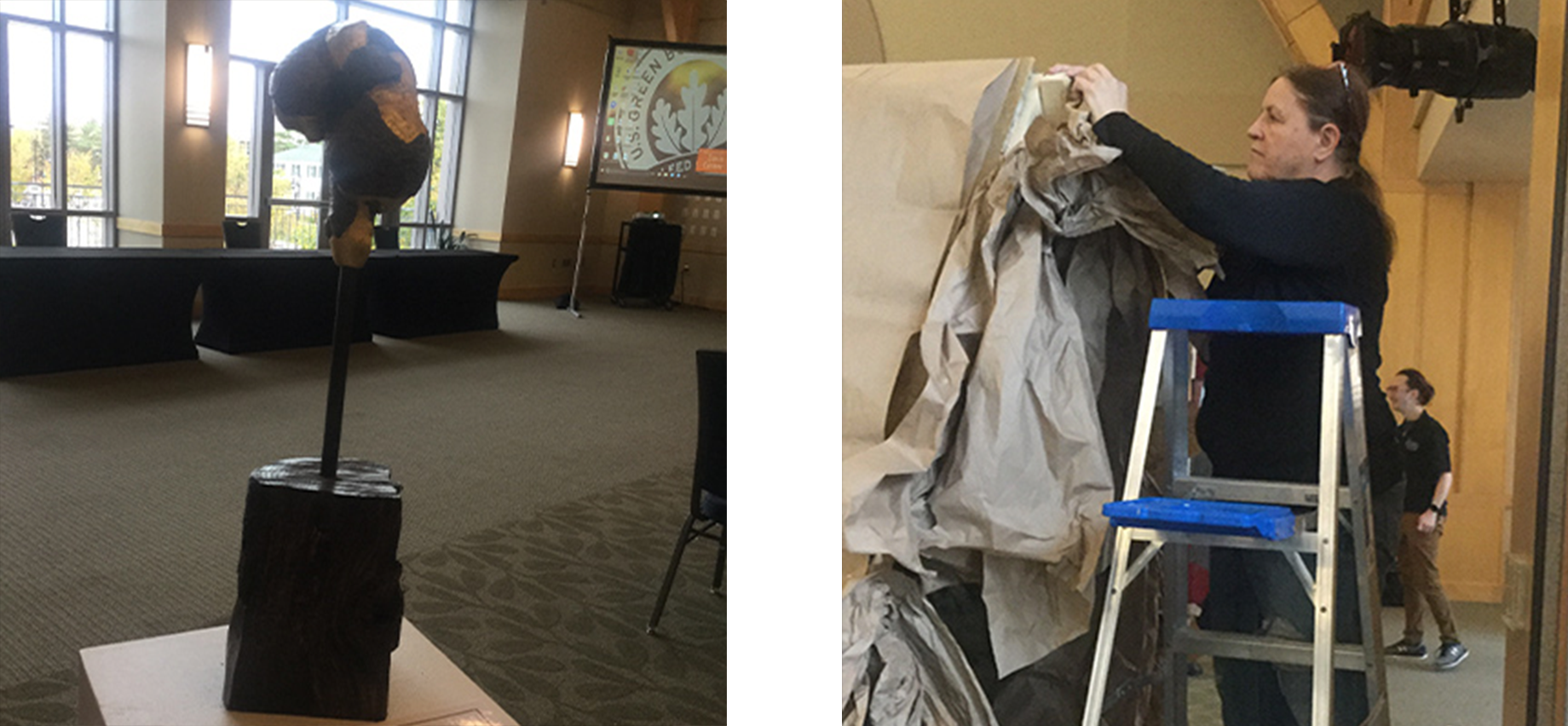 Here in Vermont I am involved in the Perennial Futures program at Middlebury College as a community partner, mentor and presenter as well as part of the New Perennials Champlain Valley Hub.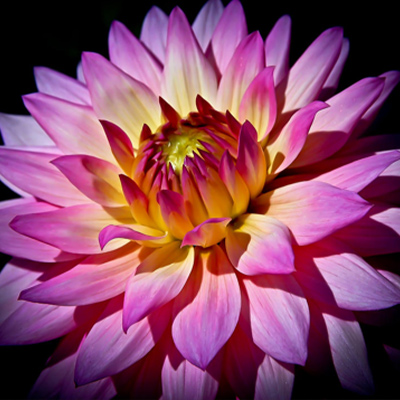 I am also co-leading a group called Continual Blossoming of 40 women from around the world who are engaged in a now four year collective deepening of the interior together as a way to help guide us through our current planetary ecocide. We are exploring Thomas Berry's admonition that when our cultural coding no longer has the capacity to guide us forward because it has lost its wisdom and integrity, a return must be made to our deeper knowing. He called this Inscendence, urging us to go inward, seeking guidance from the deep interior.
Finally we are extending our membership to include various levels of community involvement (Co-Sisters and Brothers, Partners in Mission) as we take the legacy of Thomas Berry into the future, honoring the fundamental cosmological principles at the heart of our mission toward: Greater Differentiation, deeper Interiority, and more profound Communion.